Achievements
Congratulations to 2014 Alpern Scholarship Winner, Luefras S. Robinson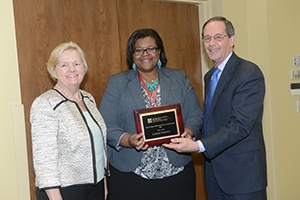 The Anita F. Alpern Scholarship, named after one of the first eight women to be appointed to a GS-18 level at the IRS, is a prestigious award that carries not only a cash price of $2,500, but a stellar list of recipients. The operative guidelines for the Anita F. Alpern Scholarship is that it be awarded to dedicated and committed public servants.

The Key Executive Leadership Program is pleased to announce Luefras S. Robinson, a member of the Key MPA cohort 46, as the 2014 Anita F. Alpern Scholarship winner. "I am so honored and thankful to have been selected for the Anita F. Alpern Scholarship. Ms. Alpern was such a great leadership example, so to have received this award in her name gives me more of an impetus to strive for excellence" shared Luefras.

Currently, Luefras supports a Department of Defense contract as a communications and engagement strategist and team lead at the Joint Staff J7 (Joint Force Development). In her role, she provides expertise to senior military and civilian leadership as a part of a task order Northrop Grumman administers. Luefras is also a well sought out professional Christian jazz saxophonist, motivational speaker and freelance writer. Additionally, she volunteers her time mentoring individuals who require job coaching and life skills expertise. She is also a member of Northrop Grumman's Veritas Employee Resource Group for which she volunteers as the Communications Chair. This program assists military veterans and wounded warriors at Northrop Grumman, and provides support to various community activities that support veterans. Luefras is also a member of Women in Defense, Virginia Government Communicators and Alpha Kappa Alpha Sorority Inc.
This year Luefras was also nominated for the Northrop Grumman Technical Services Women of Color award for professional achievement, a distinguished enterprise-wide honor. Luefras was also a recipient of a Community Service Award from the he Smart Set Club of Suffolk, Virginia in 2005.

Congratulations to Luefras S. Robinson on her selection as the 2014 Anita F. Alpern Scholarship winner.