On Campus
Key Executive Leadership Programs Welcomes New Director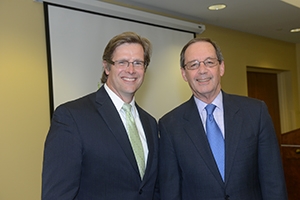 Patrick Malone, Ph.D., a 22-year veteran of the Department of Defense and expert in public sector leadership, will take the helm of the Key Executive Leadership Programs on September 1, 2014.
"It's a tremendous blessing to be part of such a talented staff and faculty who are dedicated to serving our public leaders," Dr. Malone expressed. 

After 8 years as director of the program, Robert Tobias will step down, effective August 31, 2014. 
"Every single day we get the honor of working with federal executives who are doing the work of running a democracy. [Robert] set quite a standard for all of us to follow and I think we're all excited about the future of Key."  
Since 2000, Malone has served as a faculty member at the School of Public Affairs (SPA), teaching courses such as "Diagnosis and Development of the Leadership Self", "Politics, Policymaking and Public Administration", and "Executive Problem Solving." He is a frequent guest lecturer on leadership and organizational dynamics in state and federal agencies, professional associations, and universities.  
Tobias, a distinguished practitioner in public sector labor relations, joined the SPA and AU faculty as distinguished practitioner in residence in 1999. In 2006, Robert Tobias was appointed director of the Key Executive Leadership Programs, and further developed both the executive MPA and certificate programs into rigorous and challenging academic programs for public sector employees. 
In addition to remaining as a faculty member, Tobias will assume a new role with the program as the director of business development, recruiting students and cohorts.  
"I am extremely pleased that Dr. Malone has been selected to be the Director of the Key Executive Leadership Programs," shared Robert Tobias. "Dr. Malone has the academic credentials, managerial talent and experience, and, most importantly, a true love for the students in the Key Programs to continue to enhance and improve the Program's success. I look forward to continue to work with Patrick in the Program."