2023-2024 Academic Year Events
The Metropolitan Policy Center is co-sponsoring an upcoming book event on Wednesday, September 27th at 3pm in American University's School of International Service (SIS), Founder's Room. This event will feature co-authors Malini Ranganathan and David Pike, with discussant Samantha Agarwal, and moderator Lindsey Green-Simms. See the flyer below for further information. We hope to see you there!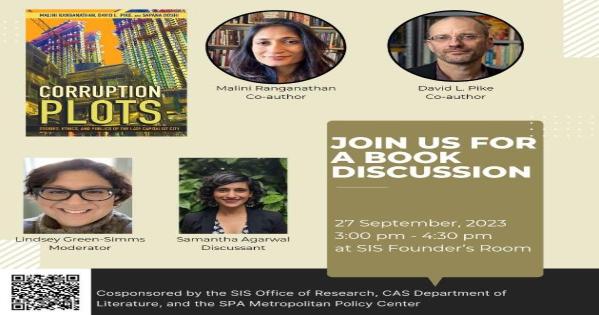 Wednesday, September 6th, 2023
The Metropolitan Policy Center co-sponsored a book event. This event featured author Katie J. Wells, with discussant Dan Kerr, and moderator Malini Ranganathan. This gathering showcased key findings from Wells' new Princeton University Press book, Disrupting D.C.: The Rise of Uber and the Fall of the City. 
Thursday, November 17, 2022
Urban Speaker Series: Jennifer Cobbina
American University, Kerwin 2, 5:30pm- 6:30pm 
There will also be a virtual option for this event.
Thursday, October 20, 2022
Urban Speaker Series: Colin Gordon
American University, Kerwin 301, 5:30pm-6:30pm 
Thursday, Febuary 23, 2023
Movie screening of Barry Farm: Community, Land & Justice in Washington, DC. The documentary film will be followed by a panel featuring co-directors Sabiyha Prince, Sam George, and Michael Fisher, Jr., who is finishing a book on the development of Barry Farm. American University, Kerwin 301, 5:30pm-7:30pm.
May 29, 2018
Derek Hyra, MPC Director, American University
Howard Theatre's Crucial Role in the Community Before & After the 1968 Riots
WTD Meeting Room, Shaw Neighborhood Library, 7:00pm
June 9, 2018
ACM 50th Anniversary Program: Author Talk with Dr. Derek Hyra - "Race, Class, and Politics in the Cappuccino City"
Smithsonian's Anacostia Community Museum, 1:00pm - 3:00pm
August 2, 2018
Annie E. Casey Gentrification Seminar
Annie E. Casey Foundation, Baltimore, MD, 8:00am - 5:00pm
September 18, 2018
Ernesto Casteneda, American University
A Place to Call Home: Immigrant Exclusion and Urban Belonging in New York, Paris, and Barcelona
Busboys and Poets, 5th & K, 6:30pm - 7:30pm
September 21, 2018
Blair Ruble, Maurice Jackson, Carolyn Gallaher, Clarence Lusane
DC Jazz: Stories of Jazz Music in Washington, D.C.
SIS Founder's Room, 12:30pm - 2:00pm
September 26, 2018
Michael Bader, Sabiyah Prince, Parisa Norouzi
Gentrification in Washington, DC: A Conversation on Improving Equitable Outcomes for Children and Families
SIS Founder's Room, 7:00pm - 8:30pm
October 10, 2018
Eva Rosen, Georgetown University
Taking Stock: What Drives Landlord Participation in the Housing Choice Voucher Program
American University, Kerwin Hall, 2:30pm - 4:00pm
October 24, 2018
Aaron Williams, The Washington Post
Using Data and Code to Report on Demographics in America
American University, Kerwin Hall, 2:30pm - 4:00pm
October 31, 2018
Sangeetha Madhavan, University of Maryland
Urban Hotspots of Vulnerability and Resilience:Food Insecurity and Kinship in a Nairobi Slum
American University, Kerwin Hall, 2:30pm - 4:00pm
November 14, 2018
Solomon Greene, Urban Institute
Inclusive Recovery in US Cities
American University, Kerwin Hall, 2:30pm - 4:00pm
November 28, 2018
Blair Ruble, Woodrow Wilson Center
Clarence Stone, GWU & UMD
Urban Policy in the 21st Century
American University, Kerwin Hall, 2:30pm - 4:00pm
January 30, 2019
Theodore Greene, Bowdoin College
Making Dupont Gay Again: Place Re-Activation and the Rise of the Vicarious Citizen
American University, Kerwin Hall, 4:00pm – 5:00pm
February 13, 2019
Jean Beaman, Purdue University
Citizen Outsider: Children of North African Immigrants in France
American University, Kerwin Hall, 4:00pm – 5:00pm
February 27, 2019
Gordon Douglas, San Jose State University
Help-Yourself City: Legitimacy and Inequality in DIY Urbanism
American University, Kerwin Hall,4:00pm – 5:00pm
March 1, 2019
AU Latino Public Affairs Forum
Co-sponsored with the Center for Latin American & Latino Studies
American University, SIS Founder's Room, 1:00pm - 5:30pm
March 3, 2019
Author Talk with Samuel Stein: "Capital City: Gentrification and the Real Estate State"
In conjunction with the Smithsonian Anacostia Community Museum's "A Right to the City" exhibition.
George Washington University, 2:00pm - 3:00pm
March 6, 2019
Bottom-Up Politics Forum
Manuel Pastor, University of Southern California
Theda Skocpol, Harvard University
William Spriggs, Howard University
Margaret Weir, Brown University
Co-sponsored with George Washington University and Wilson Center's Urban Sustainability Lab
Woodrow Wilson Center, 2:00pm - 5:30pm
March 10, 2019
Film and Discussion: What Happened 2 Chocolate City?
In conjunction with the Smithsonian Anacostia Community Museum's "A Right to the City" exhibition.
Smithsonian Anacostia Community Museum, 2:00pm - 4:00pm
March 27, 2019
Derek Hyra, American University
Gentrification and the Great Recession
American University, East Quad Building, 2:30pm – 4:00pm
March 30, 2019
Film and Director Q&A with Dr. Sonya Grier: "DogParks and CoffeeShops: Diversity Seeking in Changing Neighborhoods"
In conjunction with the Smithsonian Anacostia Community Museum's "A Right to the City" exhibition.
Mount Pleasant Library, 2:00pm
April 3, 2019
Robert Sampson, Professor, Harvard University
Annual Spring Lecture: Urban Neighborhoods and American Life
SIS Founder's Room, 4:00pm to 5:00pm with a reception to follow
April 7, 2019
Author Talk with Peter Moskowitz: "How to Kill a City: Gentrification, Inequality, and the Fight for the Neighborhood"
In conjunction with the Smithsonian Anacostia Community Museum's "A Right to the City" exhibition.
Watha T. Daniel-Shaw Library, 2:00pm - 3:30pm
July 6, 2019
Author Talk with Dr. Ashante Reese: Black Food Geographies: Race, Self-Reliance, and Food Access in Washington, D.C.
Deanwood Library, 2:00pm - 3:30pm
September 26, 2017
Willow Lung-Amam, Assistant Professor, University of Maryland
Book Panel for Trespassers? Asian Americans and the Battle for Suburbia
Woodrow Wilson Center, 11:00 am to 1:00 pm

October 10, 2017
Derek Hyra, Associate Professor, American University
DC's Juanita E. Thornton Library, 6:30 pm to 7:30 pm

October 26, 2017
Steve Moore, Executive Director, DC's Southwest BID
American University, Kerwin Hall, 5:30 pm to 6:30 pm

November 1, 2017
Gregory Squires, Professor, George Washington University
Inequality, Occupy, and the Ongoing Financial Crisis
American University, Kogod School of Business, 4:00 pm to 5:00 pm

November 9, 2017
Chris Myers Asch, Researcher at Colby College
& George Derek Musgrove, Assistant Professor at University of Maryland
Book Panel for Chocolate City: A History of Race and Democracy in the Nation's Capital
American University, Mary Graydon Center, 9:30 am to 11:30 am

November 9, 2017
Scott Kratz, Director, DC's 11th Street Bridge Park
Is it a Park or a Bridge?
American University, Kerwin Hall, 5:30 pm to 6:30 pm
November 28, 2017
Elijah Anderson, Professor, Yale University
The Cosmopolitan Canopy in the Age of Trump
American University, Kerwin Hall, 12:00 pm - 1:30 pm
March 7, 2018
Jonathan Holloway, Provost, Northwestern University
Race, History, and Higher Education: When Blackness Comes to Campus
American University SIS Founders Room, 4:00 pm - 5:00 pm

April 4, 2018
Amanda Huron, Assistant Professor, University of the District of Columbia
Book Launch for Carving Out the Commons: Tenant Organizing & Housing Cooperatives in Washington, D.C.
American University, Katzen Arts Center, 4:00 pm - 5:00 pm
April 10, 2018
Rafael Cestero, CEO, Community Preservation Corporation
& Derek Hyra, MPC Director
& Ali Solis, CEO, Make Room USA
Affordable Housing Symposium
American University, McDowell Formal Lounge, 6:30 pm to 8:30 pm

April 12, 2018
Clarence Stone, Professor, George Washington University
& Philip Thompson, Professor, MIT Urban Planning
& Philip Caroom, Judge, Anne Arundel County Circuit Court
& Jesse Van Tol, CEO, NCRC
& Gregory Squires, Professor, George Washington University
& Hilary Silver, Professor, George Washington University
Bottom-up Politics
Woodrow Wilson Center, 3:00 pm to 5:00 pm
September 13, 2016
Michael Musheno, Professor of Law, University of Oregon
Youth Conflict: Trust and Control in a High-Poverty School
American University, School of International Service, 4:00pm - 5:00pm

October 3, 2016
Michael Bader, Assistant Professor, American University
& Lynn Addington, Professor, American University
DC Area Survey Report
American University, SIS Founder's Room, 10:00am - 12:00pm

October 11, 2016
Brian Williams, Associate Professor, University of Georgia
Police-Community Dialogues Around Use of Force Policy and Practices: Opportunities Lost and Opportunity Costs
American University, School of International Service, 4:00pm - 5:00pm

October 19, 2016
Adrianne Todman, Executive Director, DC Housing Authority
Public Engagement Series
American University, Kerwin Hall, 5:30pm - 6:30pm

November 3, 2016
Michael Leo Owens, Associate Professor, Emory University
Urban Speaker Series
American University, School of International Service, 4:00pm - 5:30pm

November 15, 2016
James Wright II, Doctoral Student, American University
Urban Speaker Series
American University, School of International Service, 4:00pm - 5:30pm

November 30, 2016
Rashad Young, City Manager, District of Columbia
Public Engagement Series
American University, Kerwin Hall, 11:20am - 12:20pm
January 24, 2017
Andrea Headley, Doctoral Student, Florida International University
Police-Community Relations, Organizational Practices, and Body Cameras
American University, School of International Service, 4:00pm - 5:00pm

February 7, 2017
Charles Menifield, Professor, University of Missouri-Columbia
What Do the Data Show? Law Enforcement Killings in the U.S. in 2014
American University, School of International Service, 4:00pm - 5:00pm

February 28, 2017
Willow Lung-Amam, Assistant Professor, University of Maryland
Somos Langley Park: Equitable Development along Maryland's Purple Line
American University, Mary Graydon Center, 4:00pm - 5:00pm

March 29, 2017
Mindy Fullilove, Professor, Columbia University
Annual Spring Lecture: Promoting a Culture of Health in American Cities
American University, Kerwin Hall, 4:00pm - 6:00pm

April 18, 2017
Dwayne Baker, Doctoral Candidate, University of Illinois at Urbana Champaign
Building Inclusive Neighborhoods: Assessing Socio-Spatial Implications of Transit-Oriented Development
American University, School of International Service, 4:00pm - 5:00pm

April 26, 2017
Carolyn Gallaher, Professor, American University
& Garrett Peck, author, historian, & tour guide in Washington, D.C.
Migration & the City: Politics, Poetry, Music in Washington, D.C.
American University, Hughes Formal Lounge, 9:00am - 3:00pm
September 8, 2015
John Carruthers, Program Director, George Washington University
Quality of Life in Korea: Evidence from the Seoul Housing Market
American University, School of International Service, 4:00pm - 5:00pm

September 15, 2015
Scott Allard, Professor, University of Washington
Places in Need: The Changing Geography of Poverty and the American Safety Net
American University, School of International Service, 4:00pm - 5:00pm

October 6, 2015
Lance Freeman, Professor, Columbia University
White Entry into Black Neighborhoods: Advent of an Integrationist Era or Gentrification?
American University, School of International Service, 4:00pm - 5:00pm

October 14, 2015
Amanda Huron, Professor, University of DC
Derek Hyra, MPC Director, American University
Samir Meghelli, Chief Curator, Smithsonian Anacostia Community Museum
George Derek Musgrove, Professor, University of Mardland, Baltimore County
Brett Williams, Professor, American University
"Chocolate City" Transformed: Gentrification in DC
American University, Anderson Hall, 10:30am - 12:30pm
October 20, 2015
Constance Lindsay, Professorial Lecturer, American University
Explaining the Contexts that Black and White Middle Class Families Face: Implications for Adolescent Achievement American University, School of International Service, 4:00pm - 5:00pm
October 22, 2015
Maryann P. Feldman, Professor, University of North Carolina
Corporate Strategy & The Wealth of Regions
American University, Kogod School of Business, 1:00pm - 2:30pm

November 3, 2015
Michael Gusmano, Research Scholar, Hastings Center
Forum on Health, Homelessness, and Poverty
American University, SIS Founder's Room, 12:00pm - 5:30pm
November 5, 2015
George C. Galster, Distinguished Professor, Wayne State University
Driving Detroit: The Quest for Respect in the Motor City
American University, School of International Service, 4:00pm - 5:00pm

November 17, 2015
Liza Weinstein, Associate Professor, Northeastern University
Residential Insecurity and the Right to Stay Put in Urban India American University, School of International Service, 4:00pm - 5:00pm
January 14, 2016
2016 Greater Washington Economic Conference
Ritz-Carlton Tysons Corner, 7:15am - 11:30am

February 11, 2016
Stefanie DeLuca, Associate Professor, Johns Hopkins University
American University, 12:00pm - 1:15pm
February 25, 2016
Derek Hyra, MPC Director, American University
Sabiyah Prince, Professor, American University
Book Launch: Capital Dilemma: Growth and Inequality in Washington, DCAmerican University, School of International Service, 4:00pm - 5:00pm
March 1, 2016
Carolyn Gallaher, Associate Professor, American University
The Politics of Staying Put: Condo Conversion and Tenant Right-to-Buy in Washington, DC
American University, School of International Service, 4:00pm - 5:00pm
March 15, 2016
Jamila Michener, Associate Professor, Cornell University
Gentrification and Political Destabilization
American University, School of International Service, 4:00pm - 5:00pm

March 17, 2016
Robert McCartney, Washington Post Senior Regional Correspondent
Politics Today in DC and the Region
American University, Kerwin Hall, 5:30pm - 6:30pm
March 24, 2016
Edward Glaeser, Professor, Howard University
Technology and the City
American University, School of International Service, 4:00pm - 6:00pm

March 29, 2016
Sheldon Danziger, President, Russell Sage Foundation, & Distinguished University Professor Emeritus of Public Policy, University of Michigan
April 5, 2016
Laura Tach, Assistant Professor, Cornell University
The Spillover Effects of HOPE IV: Population Dynamics, Neighborhood Change, and Durable Spatial Inequalities
American University, School of International Service, 4:00pm - 5:00pm
April 12, 2016
Bill Crandall, Photographer
Fairy Tales from the Fault Lines: A Visual Journal from DC's Changing Neighborhoods
American University, School of International Service, 4:00pm - 5:00pm

April 14, 2016
Christopher Ballard, Founder, McWilliams | Ballard Real Estate
Transition from Undesirable to Hip DC Neighborhood: Catalysts and Effects of Change
American University, Kerwin Hall, 5:30pm - 6:30pm
May 18, 2016
Book Panel and Discussion: Urban Neighborhoods in a New Era: Revitalization Politics in the Postindustrial City
Wilson Center Boardroom, 11:00am - 1:00pm
Thursday, October 20, 2022
Urban Speaker Series: Colin Gordon
American University, Kerwin 301, 5:30pm-6:30pm   
Saturday, April 23, 2022
Go-Go City: Live Film Screening & Concert
MLK Jr. Memorial Library, 3pm- 6pm 
Wednesday, April 6, 2022
Coming 'Home' to Cappuccino City: Gentrification & Reentry in the Nations Capital
American University, Kerwin 301, 5:30pm- 7pm 
Wednesday, March 30, 2022
Urban Speaker Series: Michael Fisher 
American University, Kerwin 301, 5:30pm- 6:30pm 
Wednesday, March 17, 2022
Annual Spring Lecture with Loretta Lees
Virtual Program, 4pm- 5pm 
Wednesday, October 27, 2021
Cappuccino City: Gentrification and Criminal Justice in the District of Columbia
Virtual Program, 3pm- 4pm 
Watch here
Wednesday, October 20, 2021
Urban Speaker Series: Akira Drake Rodriguez
Virtual Program, 5:30pm – 6:30pm 
Thursday, September 16, 2021
Sine Distinguished Lecturer: Mayor Lori E. Lightfoot of Chicago
Virtual Program, 1:00pm - 2:00pm
Watch here