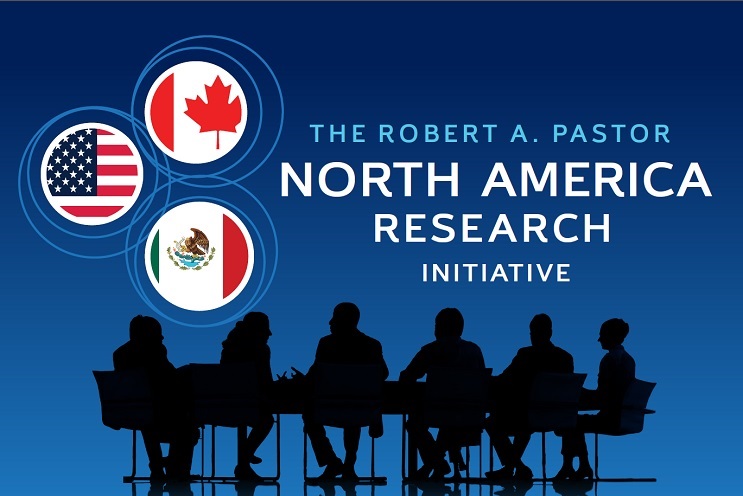 This joint program with American University's School of International Service (SIS) promotes and disseminates cutting-edge social science research focused on processes of North American integration. It does so by catalyzing the emergence of a new generation of scholars, from Mexico, Canada, and the United States, devoted to the study of the region. By supporting the production, exchange, and dissemination of scholarship devoted to the region and its potential, the Robert A. Pastor North America Research Initiative (NARI) places AU at the forefront of a long term research agenda that will inform future policy on North America.
NARI participants are early career scholars or doctoral candidates whose research encompasses a wide range of topics that shape regional dynamics, including migration, trade, finance and investment, energy, climate change, security, and political and social identities. Scholars meet regularly in all three countries, generate collaborative papers, and participate in public panel events aimed at contributing to the public debate around North American issues, including the "backlash" against North American regionalism, the future of the North American agenda, and bilateral relationships between countries in the region.
The Initiative is chaired by Tom Long, Associate Professor at the University of Warwick, with support from Eric Hershberg, CLALS Director. Partners in this program have included the Centro de Investigación y Docencia Económicas (CIDE), the University of Ottawa, the Mexican Cultural Institute, the Canadian Global Affairs Institute, and El Colegio de México.
Robert A. Pastor was Professor of International Relations and Founding Director of the Center for North American Studies and the Center for Democracy and Election Management at American University. Combining a career in government, non-governmental organizations, and academe, Dr. Pastor was Director of Latin American and Caribbean Affairs on the National Security Council (1977-81), Consultant to the State and Defense Departments, and was nominated by President Bill Clinton to be Ambassador to Panama. He was Co-Chair of the Council on Foreign Relations Task Force on North America, and was a Member and Executive Director of the Commission on Federal Election Reform, chaired by Jimmy Carter and James A. Baker, III.
Dr. Pastor was a Fulbright Professor at El Colegio de Mexico, a Peace Corps Volunteer in Malaysia, and a Visiting Professor at Harvard University, where he received his PhD in Government and an MPA from the John F. Kennedy School of Government. From 1986 to 2002, Dr. Pastor was Professor at Emory University and Fellow and Founding Director of Programs on Latin America, Democracy, and China Elections at The Carter Center, as well as serving as a Senior Advisor to the Center on conflict resolution in the Middle East. As Interim Co-Director he helped establish The Elders, a group of twelve statespersons, led by Desmond Tutu, Kofi Annan, and Jimmy Carter, from 2007-08.
From 2002-07, Dr. Pastor was Vice President of International Affairs at American University where he transformed and expanded the study abroad program, helped establish the American University of Nigeria, and initiated new programs on language immersion and "Abroad at AU." He served as a Member of the Board of Trustees of the American University of Nigeria and of the American University of Afghanistan
Dr. Pastor was the author or editor of seventeen books, including A Century's Journey How The Great Powers Shape The World. His books won four national awards and, along with his written articles, have been cited extensively in major policy venues throughout the world.
The Robert A. Pastor North America Research Initiative (NARI) seeks to promote and disseminate cutting edge social science research focused on processes of North American integration by supporting a network of early career scholars from Mexico, the US, Canada, and beyond. Gifts to the NARI fund will support this network of scholars by making regional workshops possible, while also helping to facilitate scholarly publications. To make a gift online today, please click here. For more information on giving to the NARI fund, please contact Christopher Kambhu at kambhu@american.edu.
Below, a list of scholars currently engaged in the Pastor Initiative:
Brian Bow, Associate Professor, Dalhousie University
Ernesto Castañeda, Assistant Professor, American University
Michael Danielson, Visiting Faculty, University of California DC Program
Alexandra Délano, Assistant Professor, The New School
Lauren Duquette-Rury, Assistant Professor, University of California-Los Angeles
Malcolm Fairbrother, Professor, Umeå University
Gaspare Genna, Professor, University of Texas-El Paso
Leopoldo Gómez-Ramírez, Professor, Universidad del Norte
Tom Long, Chair, Associate Professor, University of Warwick
Marcela López-Vallejo, CIDE-Aguascalientes
Inu Manak, Ph.D. Candidate, Georgetown University
Claudia Maya, Professor, UNAM
Gerardo Maldonado, Assistant Professor, CIDE
Asa McKercher, Assistant Professor, Royal Military College of Canada
Kimberly Nolan, Assistant Professor, CIDE
Clarisa Pérez-Armendáriz, Assistant Professor, Santa Clara University
Jayesh Rathod, Professor of Law, American University
Gema Santamaría, Assistant Professor, Loyola University Chicago
Daniela Stevens, Ph.D. Candidate, American University
Catherine Vézina, Professor, CIDE
Christopher Wilson, Deputy Director of the Mexico Institute, the Wilson Center
Projects, Public Events & Workshops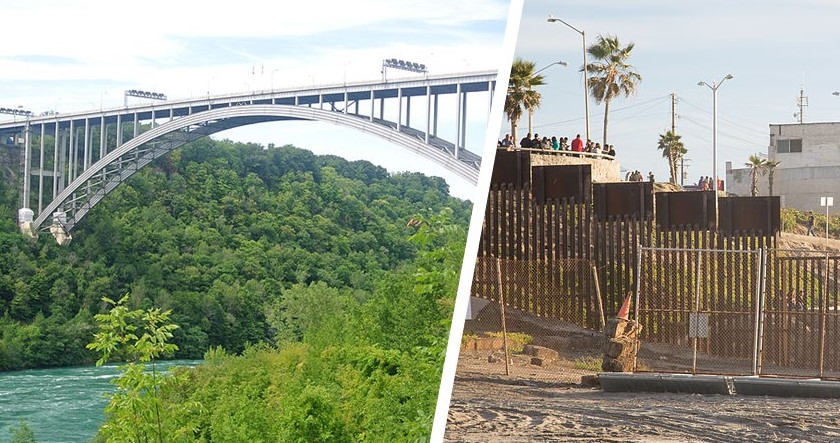 North America: Stagnation, Decline, or Renewal?
The project of North American integration and cooperation took off in the early 1990s, leading to greater interconnectedness through manufacturing chains, societal and cultural ties, legal and illicit markets, and even macroeconomic cycles. However, over the last 20 years this project has faced stagnation, skepticism, and a series of shocks. These blows have only accelerated in recent years through the Trump administration's restrictions on trade and migration, Mexican President Lopez Obrador's focus on domestic issues, and Canada's increasing preference to manage relations bilaterally rather than regionally. Today, the twin crises of the pandemic and ensuing economic downturn constitute the greatest threat to international cooperation since September 11, 2001. Yet many of the non-governmental forces that brought North America together—logics of regional production, social integration from migration, and shared challenges—remain.
This critical juncture—potentially fatal, potentially transformative—for the North American project merits examination of the region's accomplishments, challenges, and future. Led by NARI Chair Tom Long with support from CLALS Director Eric Hershberg, this initiative seeks to move away from the approaches that have characterized most projects on North America, which either look for perspectives from Canada, Mexico, and the United States, or assess the prospects for North America by issue area. Instead, it will make a lasting contribution to studies of North America and of international regions by emphasizing a problem- and theory-based approach. As a catalyst for research on North America, this initiative includes a series of virtual seminars where scholars from across the NARI network discuss the region's prospects. The ideas and debates provoked by these seminars will result in new publications on the region, including an edited volume that will serve as a marker for North American studies.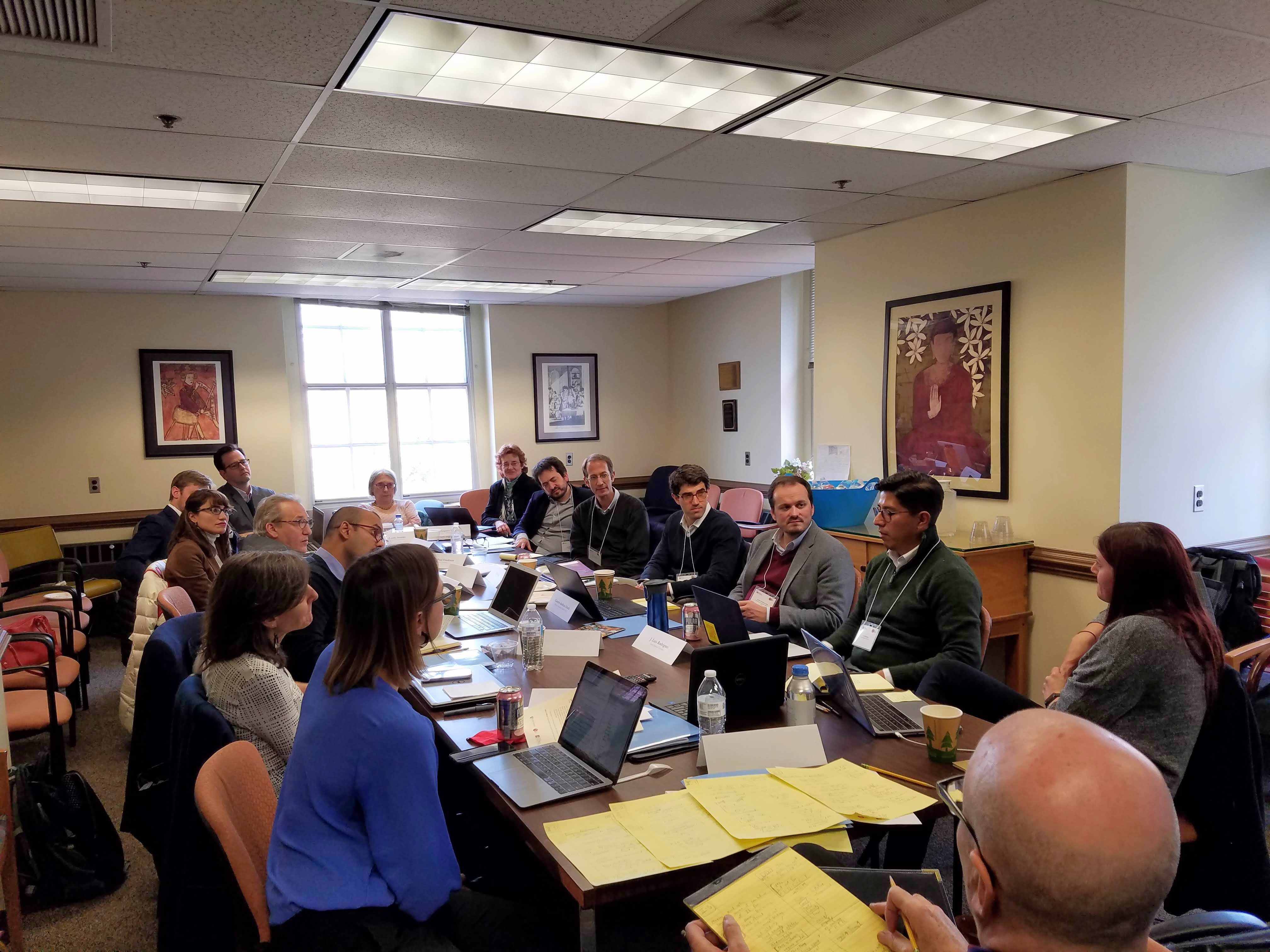 Latin America in the Liberal International Order
November 14-15, 2019 | Johns Hopkins University
Convened by the Center for Latin American & Latino Studies (CLALS) and the Latin America in a Globalizing World Initiative at Johns Hopkins University, this research workshop in Baltimore addressed Latin America's role in the Liberal International Order (LIO). This workshop is the starting point for the Latin America in the Liberal International Order project, an initiative that strives to generate new research and impactful publications on the region's role in the development and transformation of the LIO.
This initiative engages several CLALS-affiliated faculty from across School and Colleges at American University, as well as several scholars who have previously partnered with CLALS through the Robert A. Pastor North American Research Initiative (NARI). Additionally, this project builds upon related Center-sponsored efforts examining Latin America's relationship with the Liberal International Order. Specifically, this initiative will draw from and elaborate on CLALS projects that resulted in an edited volume on Brazil's changing role in regional and global affairs and two special journal isues from the Hemisphere in Flux project, which assessed the state of inter-American relations at the beginning of the decade.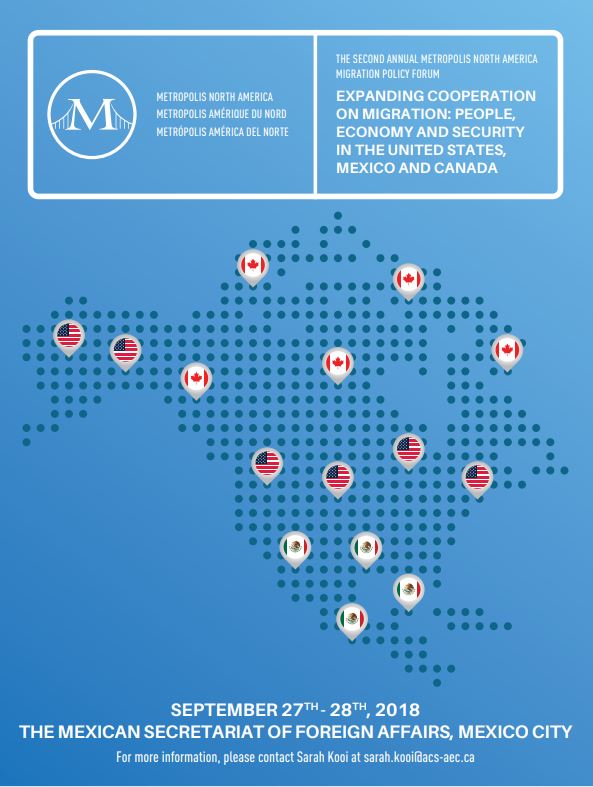 Transnational Population Flows, Community Integration, and Access to Rights and Services: A North American Challenge
September 27, 2018 | The Mexican Secretariat of Foreign Affairs, Mexico City
As a part of the Robert A. Pastor North America Research Initiative (NARI), the Center for Latin American & Latino Studies (CLALS), together with the Mexican Foreign Ministry and Canadian partners, co-sponsored the second annual Metropolis North America Policy Forum in Mexico City in late September 2018. The Metropolis Forum is an annual forum for researchers, policymakers, and community representatives to share and exchange knowledge in the field of immigration. Several participants from NARI presented a panel at the Forum, "Transnational Population Flows, Community Integration, and Access to Rights and Services: A North American Challenge," which explored the dynamics of transnational migration in the region across the subfields of community integration, family dynamics, asylum practices, and forced migration. Alexandra Délano Alonso discussed contemporary sanctuary practices through a transnational lens, while Michael Danielson expanded upon the transnational processes of forced migration in North America, and CLALS Director Eric Hershberg presented on institutional and community responses to immigrant integration in the Washington, DC metropolitan area. In a separate panel, Ernesto Castañeda spoke about unaccompanied migrant children, presenting findings from the Center's project on Household Contexts and School Integration of Resettled Migrant Youth in the U.S.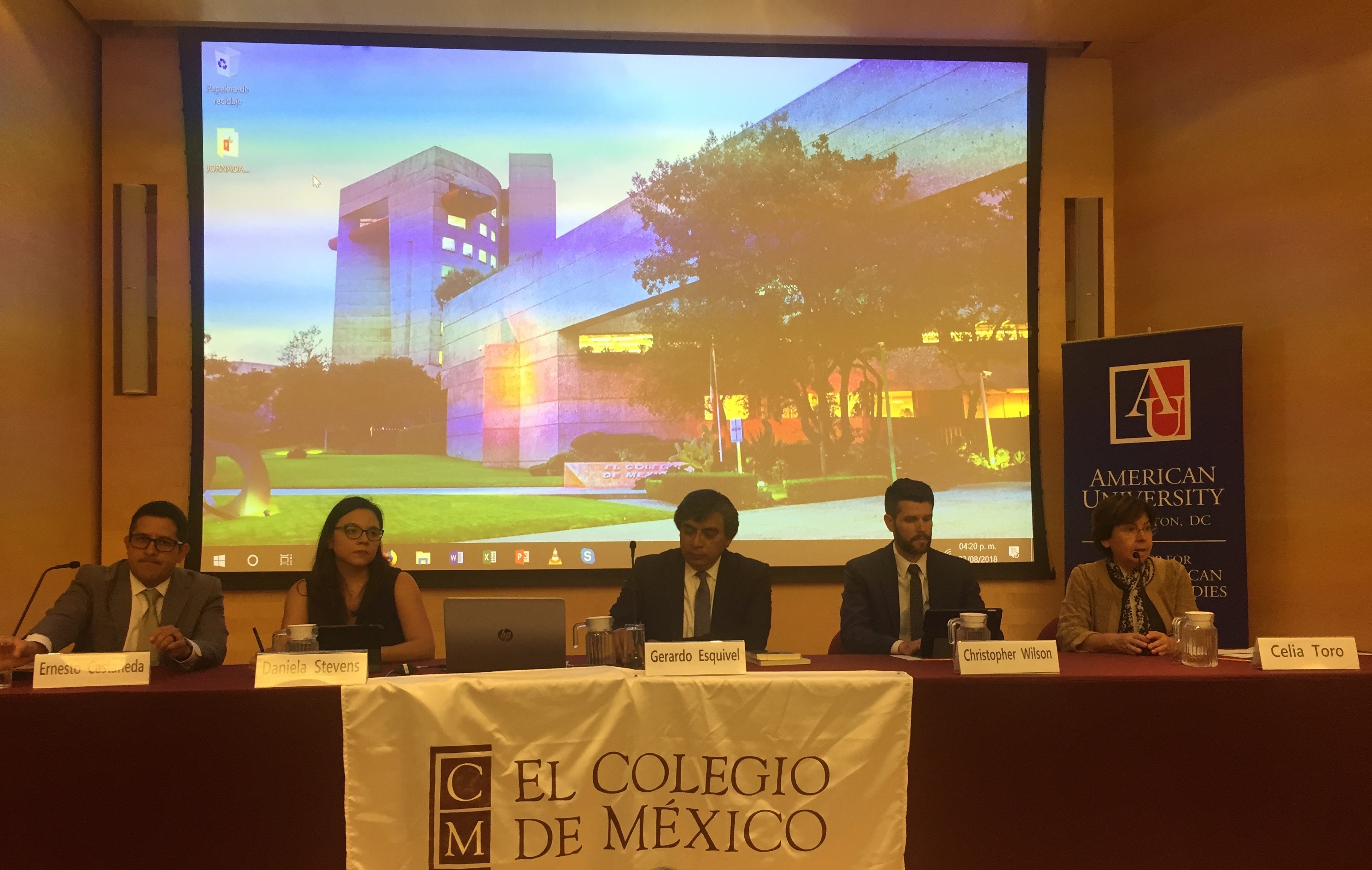 Working Paper Workshop
August 23-24, 2018 | El Colegio de México
The fourth workshop of the Robert A. Pastor North America Research Initiative gathered thirteen junior scholars from Mexico, Canada, and the United States at El Colegio de México (Colmex) in August 2018. Twenty scholars from renowned Mexican institutions such as FLACSO, ITAM, UNAM, CIDE, and Colmex joined them for thought-provoking scholarly discussions about North American regional dynamics. Building upon previously identified thematic areas, scholars presented working papers focused on trade and economic policy, security, migration, North American identities, and climate change. Five teams of researchers presented and discussed their papers with scholars from the abovementioned institutions. As a result of the feedback, the groups had the opportunity to further develop their papers and gain clarity for the next steps in their collaborative research. Furthermore, the network held a roundtable discussion, "Heterogeneity and the Economic Gaps between the North American Partners." Prominent senior scholars, namely, Robert Blecker, Professor at American University's Department of Economics; Juan Carlos Moreno-Brid, Professor at the Facultad de Economía, UNAM; Sergio Silva, Professor at the Departmento de Estudios Internacionales, ITAM; and Gustavo Vega, Professor at the Centro de Estudios Internacionales at Colmex, discussed their insights on trade, finance, and macroeconomic policies with NARI's junior scholars.
The initiative's fourth public event, "North American Dynamics beyond NAFTA," featured the soon-to-be-appointed Under Secretary of Expenditures in Mexican President-elect Andrés Manuel López Obrador's administration, Gerardo Esquivel, who discussed the integration opportunities and challenges of the North American partners. In addition, three NARI scholars presented the results of their individual projects on migration, trade, and climate change, highlighting the research-based vocation of NARI. Over 200 people and members of the Mexican media were in attendance. A recording of the public event is available here. In short, the fourth workshop materialized the efforts of the previous meetings and consolidated NARI as a trans-disciplinary and research-driven space that encourages scholars to articulate their work through a North American lens.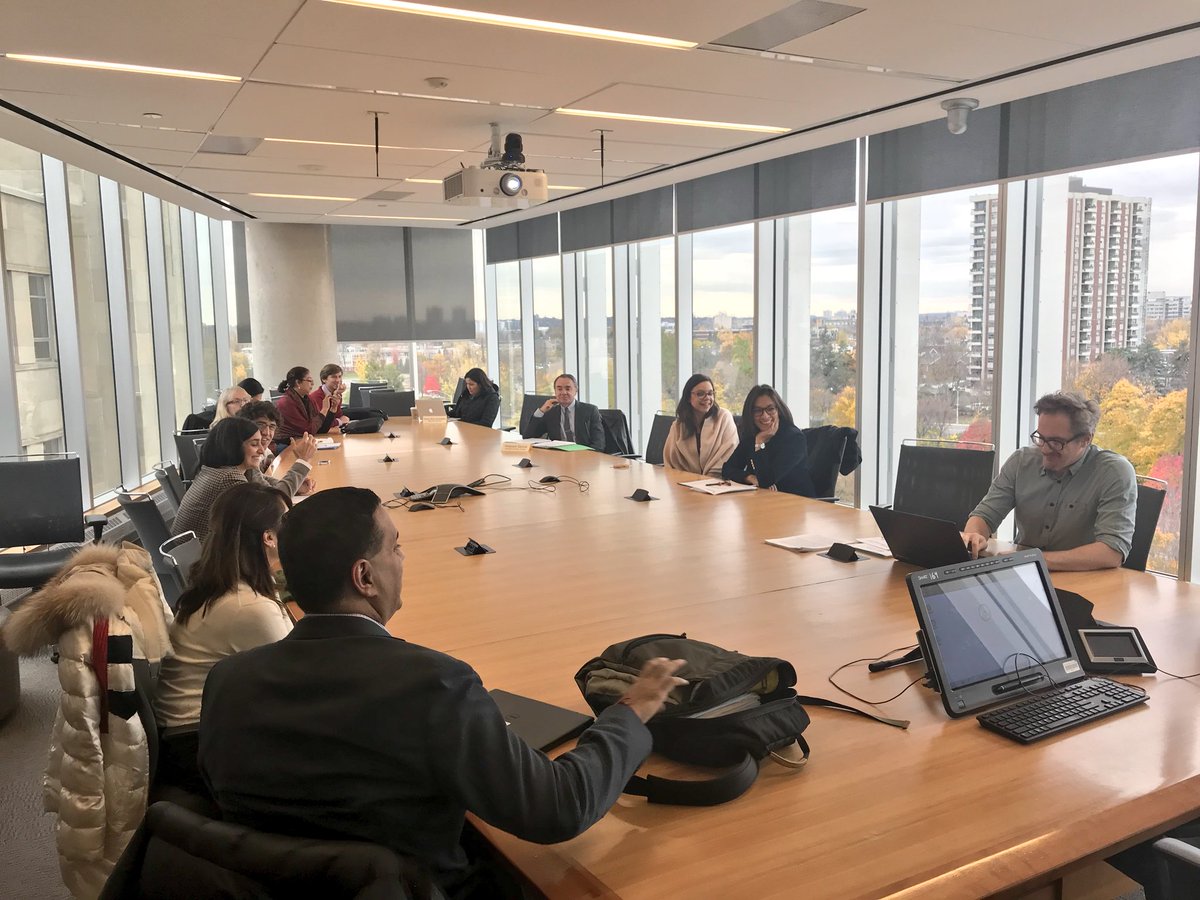 Canadian and Mexican Visions of North America
November 8-9, 2017 | University of Ottawa
For its third workshop, the Robert A. Pastor North America Research Initiative convened 15 scholars from the region and beyond to explore Canada-Mexico relations across a range of themes at the University of Ottawa. Although the Canada-Mexico relationship has traditionally been considered the "weakest link" within the region, the uncertainty about NAFTA, its renegotiation and a potential transformation of trade relations in the region highlight the importance of strengthening bilateral ties. Pastor Scholars, grouped by thematic interest, presented and discussed working papers during the two-day workshop on topics such as migration, trade, finance and investment, and integrated new issues into the research agenda such as energy, climate change, violence, and political and social identities. As a result of the workshop, the scholars were able to produce clear roadmaps for furthering collaborative research projects that will come to fruition because of the professional relationships that the Initiative fosters.
In addition, senior Canadian intellectuals, such as Laura MacDonald (Carleton University), joined the participants in stimulating and productive discussions, while the Initiative also invited Adriana Vega, Director of International Policy at the Canadian Chamber of Commerce, for a conversation about the position of the Canadian business sector vis-à-vis Mexican partners. Finally, former Canadian Ambassador and Consul Colin Robertson addressed the scholars and the broader public in an event held at the University of Ottawa, where he emphasized the strategic importance of the Canada-Mexico relationship during these turbulent times. The event, co-sponsored by the Canadian Global Affairs Institute, attracted an audience comprised of Mexican and Canadian diplomats, students and scholars, representatives from the business sector, and members of institutions that bridge the gap between diplomacy and academia.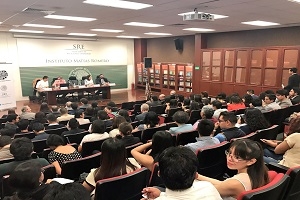 The North American Idea in an Era of Global "Backlash"
March 30-31, 2017 | Centro de Investigación y Docencia Económicas
In March 2017, fifteen scholars from Mexico, Canada and the United States convened in Mexico City at the Centro de Investigación y Docencia Económicas (CIDE) as part of the Robert A. Pastor North America Research Initiative (NARI), which aims to catalyze the emergence of a new generation of social scientists devoted to the study of the region. The two-day workshop explored sources and manifestations of "backlash" against regional integration and cooperation in North America and beyond. Informed by short memos analyzing backlash in historical and comparative contexts, scholars considered questions of identity and nationalism; potential directions for trade and environmental policies; and patterns of human migration throughout North America and policies to manage population flows. The presence and visibility of actors advocating enhanced cross-border cooperation, particularly at a moment when such cooperation is being challenges, was a central theme throughout the discussion. 
In addition to seminar discussions among the early career scholars participating in the Initiative, several senior Mexican intellectuals were invited to deliver informal presentations during panels held over the course of the two days: Blanca Heredia (of CIDE) framed backlash as a symptom of the end of the global liberal order, while Carlos Elizondo Mayer-Serra (of the Monterrey Institute of Technology and Higher Education) contextualized Mexico's economic nationalism in the country's experience of a rapid pace of globalization during the past three decades. Carlos Heredia (of CIDE), in turn, led a discussion of how scholarly interventions can shape policy. A public panel discussion at the Mexican diplomatic academy—the Instituto Matías Romero—explored the ties that bind the peoples and governments of North America even in the most turbulent of times. With nearly fifty diplomatic academy students in attendance, the event provided a valuable occasion to disseminate scholarly insights developed under NARI auspices to a broader public in Mexico City, thus fulfilling the Initiative's objective of informing understanding of contemporary North American issues beyond academe.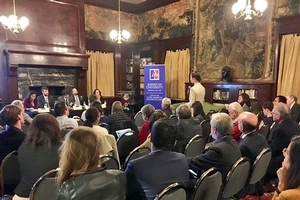 Inaugural Workshop
October 27-28, 2016 | American University
In October 2016, CLALS and the School of International Service convened a group of thirteen emerging scholars from Mexico, the United States, and Canada for the inaugural workshop of the Robert A. Pastor North American Research Initiative. Over the course of two days, scholars engaged in several roundtable discussions thematically focused on three areas of the new agenda for North America: economic and financial integration; migration and the challenges of social integration; and regional policy coordination. These discussions were informed by short memos written by each scholar, providing a starting point for a digital forum of shared knowledge on the various topics related to the North American idea, extending the exchange of information beyond the initial workshop.
Scholars also had the opportunity to participate in an opening dialogue with the former US Ambassador to Mexico, Earl Anthony Wayne, regarding the dynamics propelling (or dissuading) North American (dis)integration. Drawing on his diplomatic and policy experience, Ambassador Wayne encouraged scholars to employ a multi-disciplinary approach as a way to explore both theoretical and policy-based issues surrounding the new agenda for North American integration. The workshop was further invigorated by a public panel hosted at the Mexican Cultural Institute, titled "Beyond the 'Three Amigos': Where's the North American Agenda Now?" Moderated by Tom Long, four participating scholars engaged in a lively discourse, touching on themes such as linking value chains, pathways to integrating energy policies, the local impacts of migration, and articulating a North American agenda in an era of anti-globalization rhetoric. The panelists also answered audience questions from members of the AU and larger DC policymaker community.
The Pastor Initiative will continue to support the production, exchange, and dissemination of innovative social science research devoted to the North American region and its potential. Biannual meetings and additional thematic workshops are currently being developed, placing the Pastor Initiative and American University at the forefront of a long-term research agenda that will inform future policy on North America.