Roger W. Jones Award for Executive Leadership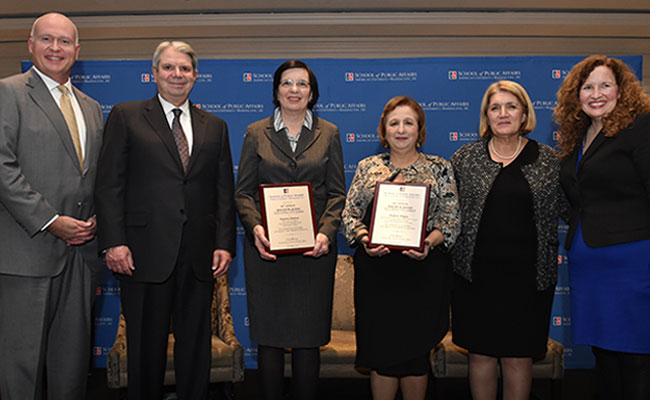 Background, Awardees, Nominators
Since 1978, American University School of Public Affairs has honored more than 70 federal career executives in SES positions for their exceptional public service and dedication to the work and goals of government and who have shown leadership in training of federal government managers and executives.
2017 Ceremony
The 2017 Roger W. Jones Award for Executive Leadership ceremony was held at the Ritz-Carlton on November 9, 2017. The following federal career executives were honored at this event:

Patricia Dalton
Chief Operating Officer
Government Accountability Office
United States Congress


Frances Regan
Area Counsel of the Office of Chief Counsel
Internal Revenue Service
Department of Treasury

Awardees' Nominators
Gene Dodaro (RJA Awardee 2009), Comptroller General of the United States, Government Accountability Office, United States Congress
Drita Tonuzi, Deputy Chief Counsel, Internal Revenue Service, United States Department of Treasury
Nominators presented the award to their nominees and spoke about the work they have accomplished. Awardees also spoke upon receiving their award.
The selection process was one of great rigor and many rounds of review. It was an especially challenging year as all nominations submitted were superior. The final results had unanimous support, and it was the first time ever the Roger W. Jones Award was given to two women.
Keynote Speaker
Francis Rose delivered the 2017 Roger Jones Award Ceremony keynote speech.
Francis Rose is an award-winning broadcaster, journalist, speaker, writer, and host of Government Matters on Washington, DC's WJLA/ABC7 and NewsChannel 8. He has covered all three branches of the federal government as a broadcast journalist since 1998. He was host of "In Depth with Francis Rose" on Federal News Radio from 2008 to 2015 after joining the station in 2006. His guest list has included virtually every important name in the federal government.
Francis's first book, "The OPM Cyber Breach: An In Depth Look at the Worst Cyber Attack in Government History" is available on Amazon. Francis is highly sought-after as a speaker and moderator of high-profile events in the federal community. His 30-year broadcast career includes stops at America's leading broadcasters, including ABC Radio, CBS Radio, Westwood One, and C-SPAN.
News and talk radio trade magazine Talkers selected "In Depth with Francis Rose" for its list of the 250 most important talk shows in America in 2012.

Francis Rose
Government Matters host, Federal government expert, and speaker

Roger W. Jones Selection Committee
Patrick Malone
Director, Key Executive Leadership Programs; Roger W. Jones Award Committee Chair, School of Public Affairs, American University

David S. C. Chu
President, Institute for Defense Analyses; Co-Chairman, Transition 2017, National Academy of Public Administration

Ed Deseve
Co-Chairman, Transition 2017, National Academy of Public Administration; Executive in Residence, Brookings Executive Education; former Special Adviser to the President

Mortimer Downey
President, Mort Downey Consulting, LLC; National Academy of Public Administration Fellow; former Deputy Secretary of U.S. Department of Transportation




Terry Gerton
President and CEO, National Academy of Public Administration

Sallanne Harper
President, Association of Federal Enterprise Risk Management; National Academy of Public Administration Fellow

David Mader
Civilian Sector Chief Strategy Officer, Deloitte

Robert Tobias
Business Development, Key Executive Leadership Programs, School of Public Affairs
Roger W. Jones Award Ceremony and Reception
November TBC, 2018