Monday 9:00 am - 5:00 pm Tuesday 9:00 am - 8:00 pm Wednesday 9:00 am - 8:00 pm Thursday 10:00 am - 5:00 pm Friday 9:00 am - 5:00 pm
Contact:
Fernando, Gihan S
Executive Director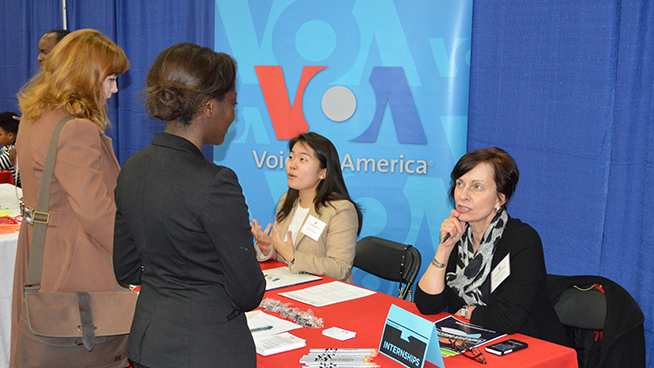 The Fall 2019 Job & Internship Fair is scheduled for Wednesday, September 11 from 1 - 4 p.m. in Bender Arena. 
Recruit AU Students & Alumni
Join us for our Fall 2019 Job & Internship Fair on Wednesday, September 11 from 1:00-4:00 PM in Bender Arena and meet talented AU students and alumni seeking full-time, part-time, and internship positions.

The AU Job and Internship Fair is open to AU students and alumni and registered employers only.

This high-impact fair connects representatives from 140+ nonprofit organizations, companies, and government agencies with more than 1,200 students and alumni from a variety of disciplines within AU's:
Registration Fees
Last day for cancellation/refund is Friday, August 23, 2019. Payment is due no later than Friday, September 13.
Nonprofit Organization
Fee: $300.00
Government Agency
Fee: $450.00
For-profit Organization
Fee: $650.00
Registration fee includes:
Eight feet of exhibit space, including a six-foot table, cloth, and two chairs
Customized sign displayed at your table
Buffet lunch and refreshments throughout the fair for two representatives
Complimentary on-site parking
Registrant's Terms of Agreement Policy
You, as the fair registrant, are responsible for abiding by the following policies:
PAYMENT DEADLINE POLICY: All payments must be received by Friday, September 13, 2019.
CANCELLATION/REFUND POLICY: If your organization needs to withdraw from the fair, you must notify Elaine Salisbury, Employer Relations Specialist, via email by Friday, August 23, 2019, in order to receive a refund. No refunds will be granted after Friday, August 23, 2019.
NO SHOW POLICY: If representatives are unable to attend the fair at the last minute, your organization will be responsible for paying the registration fee in full.
Only organizations with accounts in good standing will be eligible to participate in campus recruiting activities in the future.
Employer Check-in
Please ensure that all participating representatives from your organization review the information below:
Registered employers may check in as early as 11:00 a.m. on the Upper Mezzanine Level of Bender Arena and enjoy a buffet lunch beginning at 11:30.
Student and alumni attendance is greatest at the start of the fair, so please arrive early, enjoy lunch, and complete your set-up before 1:00 p.m.
Career Center staff will be on hand to help deliver your materials from the elevator, loading dock, or check-in table to your exhibit area. Large displays extending beyond your eight-foot area or audio visual equipment requiring electrical outlets cannot be accommodated. However, employer literature, business cards, and giveaways are welcome.
Wireless Internet access is available in Bender Arena.
Advertise to Students & Alumni

Help your organization stand out through our Job & Internship Fair mobile app. Grab the attention of prospective interns and employees with a captivating banner ad on our mobile app. Our app is widely promoted on campus and at the fair to help students and alumni pinpoint opportunities and organizations of interest.
Interactive Banner Ad
Cost: $100.00
Artwork Specifications: All artwork must be 600 x 110 pixels.
Please provide the URL to which your ad should link, e.g., to your organization's about us or career pages.
For advertising questions, contact Kara Constantine, assistant director of marketing and communications.
For all other questions, contact Elaine Salisbury, employer relations specialist.

Shipping to and from AU
Shipping Materials TO American University
If you would like to ship materials prior to the fair, please send them to:
American University Career Center
4400 Massachusetts Avenue, NW
Butler Pavilion, Fifth Floor
Washington, DC 20016-8011
Attention: Elaine Salisbury
PLEASE NOTE: Any materials left at your booth at the end of the fair will be discarded.
Please call the Career Center's mainline at 202-885-1804 with questions.
Shipping Materials FROM American University
UPS
Bring your package to the UPS Store, located in the tunnel across from Bender Arena. UPS pick-up occurs at 5:30 p.m.
FedEx
Please bring a completed air bill and attach it to your package.
Ensure that your air bill includes the following information:

Billing account number
Shipper and recipient names
Type of service
Approximate weight of package, if possible

Call 1-800-463-3339 to schedule a pick-up.

Schedule your pick-up for NEXT DAY, no later than 4:30 p.m.
Pick-up location:

American University Career Center
4400 Massachusetts Avenue, NW
Butler Pavilion, Fifth Floor
Washington, DC 20016-8011
Questions?
Contact Elaine Salisbury, Employer Relations Specialist, at 202-885-1852.