Monday 9:00 am - 5:00 pm Tuesday 9:00 am - 8:00 pm Wednesday 9:00 am - 8:00 pm Thursday 10:00 am - 5:00 pm Friday 9:00 am - 5:00 pm
Contact:
Fernando, Gihan S
Executive Director
VIRTUAL AU Job & Internship Fair
Virtual Job & Internship Fair on Wednesday, September 16 from 1 - 4 p.m. Eastern
Recruit AU Students & Alumni
The AU Career Center is hosting a virtual fair on Wednesday, September 16 from 1:00 - 4:00 pm ET, in partnership with Handshake. Connect with our talented AU students and alumni from all over the U.S. and the world. Take part in one of the first DC area career fairs of the fall! The fair is open to AU students and alumni and registered employers only.

This virtual fair connects representatives from many companies, nonprofit organizations, and government agencies with students and alumni from a variety of disciplines within AU's:
Registration Fees
Nonprofit Organization
Fee: $175 
Government Agency
Fee: $300 
For-profit Organization
Fee: $425 
Last day for cancellation/refund: Friday, September 4, 2020.
Employer Registration & PREPaRATION
Please ensure all participating representatives from your organization review the information below:
AU will use virtual fair functionality on Handshake to host our job & internship fair. Registration for the fair will be in late June on Handshake. 
Handshake plans to have their virtual fair platform available at the end of July. The Career Center's Employer Relations Team and Handshake will provide directions, trainings and guidelines on using the new virtual fair platform throughout the summer, in order to assist employers in preparing for the fair.
Student and alumni attendance is greatest at the start of the fair, please plan to have at least one representative to be available at 1:00 p.m. Employers must staff the virtual booth between 1-4pm. We highly recommend having at least 2 representatives available at all times, to assist with participant traffic.
Registrant's Terms of Agreement Policy
You, as the fair registrant, are responsible for abiding by the following policies:
PAYMENT DEADLINE POLICY: All payments must be received by: Friday, September 18, 2020.
CANCELLATION/REFUND POLICY: If your organization needs to withdraw from the fair, you must notify Elaine Salisbury, Employer Relations Specialist, via email by Friday, September 4, 2020. No refunds will be granted after September 4.
NO SHOW POLICY: If representatives are unable to attend the virtual fair at the last minute, your organization will be responsible for paying the registration fee in full.
Only organizations with accounts in good standing will be eligible to participate in campus recruiting activities in the future.
VIOLATION OF RECRUITING POLICIES 
Any violation of our employer recruiting policies or online career services Terms of Service may result in a sanction against the organization.  Examples of recruiting violations may include but are not limited to:  disclosure of student information, unprofessional or inappropriate conduct with students, or mass-emailing to faculty, staff, students or alumni.
An organization that commits a violation of American University Recruiting Policies will receive notice of the violation.  In addition to issuing the notice, American University may also impose a sanction against the organization for the violation. Sanctions imposed may result in the following: 1) issuance of a warning letter, 2) suspension of recruiting privileges at American University for a designated period, or 3) termination of recruiting privileges.   In the event of a suspension, the sanctioned organization may request reinstatement of recruiting privileges shortly before expiration of the designated sanction period. The request for reinstatement shall include information on how the organization will avoid any future occurrences of the violation sanctioned and detail what, if any, procedures the organization will employ to avoid any future violation of American University Recruiting Policies. Upon review of the request for reinstatement, American University will send a written notification of reinstatement and the effective date of the reinstated recruiting privileges.
Any sanction may be appealed to the Executive Director of the American University . The Executive Director will review the appeal and determine whether the sanction will be affirmed, modified, or reversed.   Upon such determination, the Executive Director will send written notification of the decision to the organization.
For all other questions, contact Elaine Salisbury, employer relations specialist.
Handshake Virtual Fair Tips
Handshake Virtual Fair FAQs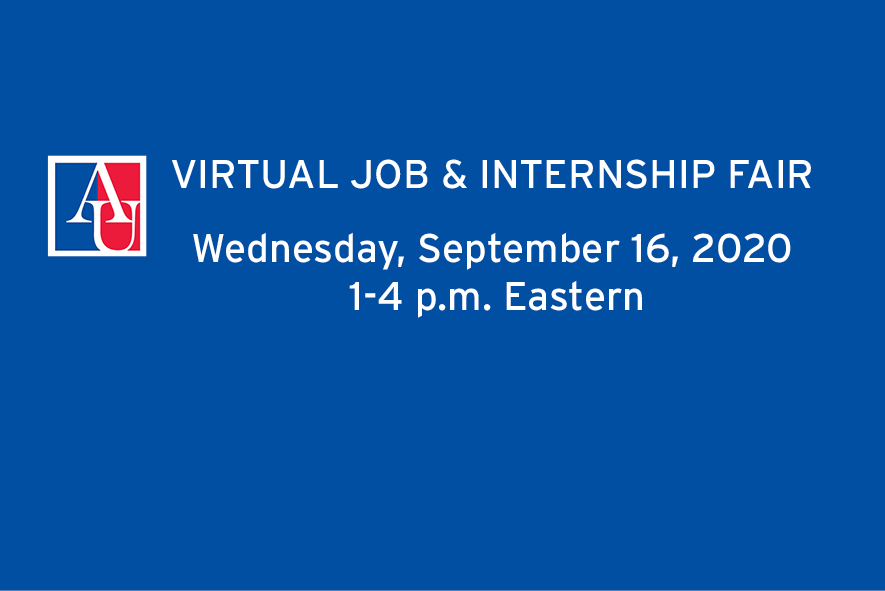 AU Fall 2020 Virtual Job & Internship Fair on Sept 16 - Registration open now!
Questions?
Contact Elaine Salisbury, Employer Relations Specialist, at 202-885-1852.