Government & Politics
Key Director Responds to Administration on Labor-Management Relations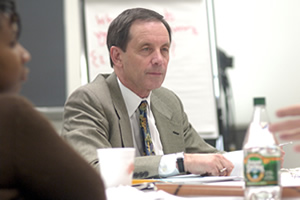 The Obama Administration's newly announced Executive Order, "Creating Labor-Management Forums to Improve Delivery of Government Services," opens the door for federal workers to offer their creativity and experience to improve agency performance.
Three public policy experts have responded to E.O. 13522 in a white paper (attached, but embargoed to Wednesday, February, 10 at 9:00 a.m.) that they will be available to discuss by teleconference on February 10, 2010, at 9:00 a.m. (1-800-391-1709, conference code 823536). According to the white paper, "focusing engagement on agency performance is the key to achieving maximum results and legitimizing the effort, the former of which is essential to the latter. Performance is the glue that binds the parties together in a common mission to serve the public. Such a focus does not make it easy, but averts the tendency to squabble pointlessly over how engagement should be conducted relative to more traditional means of labor-management decision-making. It allows for meaningful rather than trivial participation. "
The white paper, "Engaging Federal Employees Through Their Union Representatives To Improve Agency Performance," was prepared by three experts, all of whom have prior experience with federal partnership efforts -- Dr. Marick F. Masters, Professor of Business Administration, Wayne State University, Detroit, MI; Professor Christina Sickles Merchant, Professor of Practice, Maxwell School, Syracuse University, NY; and Professor Robert Tobias, Director, Institute for the Study of Public Policy Implementation at American University, Washington, DC.
According to Masters, Merchant and Tobias, the forums will be more successful if several key principles and infrastructure requirements are in place. They offer proposals to increase the chances for these Forums to achieve greater and more measurable success than what occurred under the Clinton Administration's Partnership effort.
"Engaging Federal Employees Through Their Union Representatives To Improve Agency Performance":
traces the ebb and flow of federal policy toward labor-management relations since the early 1960s to put the need for a new program into historical perspective;
examines the question of "why engage," providing a rationale for instituting labor-management engagement in unionized settings, particularly the federal sector;
reports on the published evidence available on the effects of the partnerships in the nineties;
summarizes the findings of a conference of labor union officials at the National Labor College; and
offers recommendations for how labor-management engagement can be structured to maximize its potential, identifying key principles and infrastructure requirements.
Click Here to download the paper.