Achievements
Dean Peter Starr's Annual Address Filled with Awards and Accomplishments College of Arts and Sciences Rising to Challenges of 21st Century Higher Ed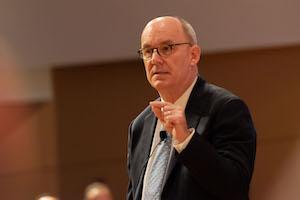 In his ninth annual address, College of Arts and Sciences Dean Peter Starr gathered faculty and staff around him for a town hall meeting packed full of good news about faculty honors and awards, external research funding, fundraising successes, new and growing interdisciplinary research centers, and the bright future of AU science.
Read the College of Arts and Sciences highlights here:
College of Arts and Sciences: Core of AU
As the largest school at AU, the College of Arts and Sciences is truly the core of the university, said Starr.
College faculty teach 57 percent of overall AU undergraduate credit hours and 79 percent of all Gen Ed/AU Core credit hours.
College faculty teach 18 percent of all graduate credit hours, but the College's new and newly redesigned programs in data science, computer science, and sociology are poised to increase these numbers.
College faculty train 60 percent of all AU doctoral heads—a number that is likely to increase as proposed new STEM doctoral programs move forward.
Core in Research
The College of Arts and Sciences brings in one third of all AU research dollars—nearly $10 million in fiscal year 2018. Starr pointed out that this overall funding has doubled since 2014 and increased tenfold in 10 years.
College faculty are currently doing 33 percent of all sponsored research at American University.
The research is sponsored by an increasingly prestigious group of government institutions and foundations, said Starr, including the National Institutes of Health, the National Science Foundation, NASA, the National Institute of Standards and Technology (NIST), the USDA, the Henry Lucy Foundation, and the Andrew Mellon Foundation.
New and Growing Research Centers
The College continues to establish interdisciplinary research centers in the university's four areas of strategic focus: health, data science and analytics, security, and social equity.
All of these centers, said Starr, demonstrate the principles of cross-disciplinary inquiry and outreach, energizing faculty collaboration and producing cutting-edge scholarship and research. "The centers are transformative," said Starr, "bringing people together across departments and across schools to do serious work."
A Strong Academic Culture
The strong academic culture in the College of Arts and Sciences continues to build upon itself, said Starr, across all areas of scholarship, teaching, and service. This year, College faculty received five of the university's 12 annual faculty awards:
Starr said that these faculty members are building on an impressive history of College of Arts and Sciences faculty awards for their scholarship, research, and service:
College faculty have won the Scholar-Teacher of the Year Award for six of the last 11 years.
They have received Outstanding Service awards in seven of the last 10 years, including three in a row.
They have received the Morton Bender Prize in eight of the last 10 years—including five Morgan Bender Prizes in a row.
Bringing AU to the DC Community
Starr recognized five outstanding initiatives that are making significant contribution to the College of Arts and Sciences, AU as a whole, and the DC community:
The Bright Future of AU Science
It's an exciting time for science at American University. Starr's plans include two new PhD programs and seven new faculty hires for the upcoming Hall of Science. His vision for AU Science will take advantage of AU's location in the heart of DC, a science town where nearly 10 percent of residents hold science and engineering degrees.
The College has already built a strong cadre of accomplished science faculty, said Starr, and now the university's facilities are catching up with the opening of the Don Myers Technology and Innovation Building in 2017 and the upcoming American University Hall of Science.
Dean's 2019 Faculty Awards
College Dean's Award for Outstanding Contributions to an Inclusive Community
Neisha-Anne Green: for her work as Director of Academic Student Services in the Writing Center and as co-facilitator of this year's Anti-Racist Pedagogy workshop. 
Assistant Professor of Literature Lily Wong: for her work as Chair of the Diversity and Equity Committee for the AU Core. 
College Dean's Award for Exceptional Innovation
Associate Professor of History Dan Kerr: for his work on the Humanities Truck Project. 
Associate AU Museum Director Kristi-Anne Shaer: for her work on the AU Museum's acquisition of the Corcoran Legacy Collection and its promotion of the Alper Initiative for Washington Art.  
College Dean's Award for Exceptional Impact
Assistant Professor of Health Studies Ethan Mereish: for his research advancing the health of the LGBTQ community through three NIH-funded studies, and for establishing the Lavender Lab, to "to better understand and reduce sexual orientation, gender, and racial/ethnic disparities in health."
Professor of Sociology and Education Cynthia Miller-Idriss: for her scholarship and work as a public intellectual in the fields of sociology and comparative education. 
Betty T. Bennett Faculty Scholar-Administrator Awards
Stacey Snelling: for her highly fruitful and consistently funded research on shaping nutritional behavior to manage risk factors related to chronic disease, and for her exceptional leadership—first, as associate chair of the former School of Education, Teaching and Health, and then as founding chair of the Department of Health Studies.
Pamela Nadell: for her pathbreaking scholarship on American Jewish history, including the recent book America's Jewish Women: A History from Colonial Times to Today, and for her decades of leadership as director of our Jewish Studies program, chair of the Department of History, and (this year) chair of the Critical Race, Gender and Culture Studies Collaborative.