Contact:
Arnold, Glen Wayne
Administrative Coordinator
Economics
4400 Massachusetts Avenue NW
Washington
,
DC
20016-8029
United States
Program on Gender Analysis in Economics (PGAE)
PGAE is a graduate research and teaching program emphasizing on theoretical and empirical economics training in gender analysis. Projects investigate the role of gender in social reproduction, labor markets, finance, and development — centered on the well-being of women and other under-represented groups. PGAE is a leader in producing policy analysts and scholars promoting the greater empowerment of women worldwide.
PGAE's international community supports:
Graduate degrees built around a core of shared course and including both MA and PhD in Economics with gender tracks and a Graduate Certificate on Gender Analysis in Economics.
Projects and partnerships, including the William and Flora Hewlett Foundation-funded Care Work and the Economy venture and international affiliations with the University of Peradeniya in Sri Lanka, among other universities in Asia and Latin America to develop curricula for teaching gender analysis in economics in a developing country context.
Local and international events, including our Gender Seminar Series every semester, the Pathways to Gender Equality Conference on November 2018, and the Nordic Perspective of Women's Economic Empowerment Event on March 2019 .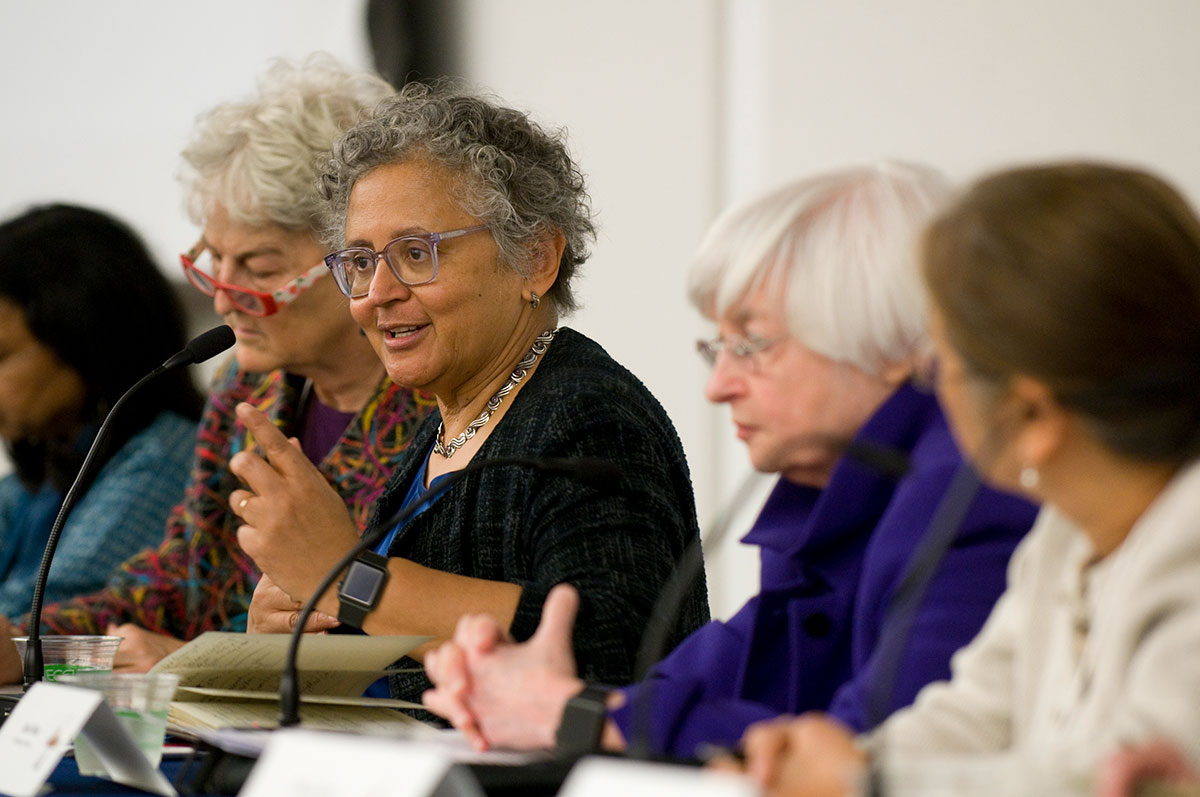 News & Events
Decolonizing Economics? Opening Up Economics to New Voices and Perspectives presented in person and on Zoom on November 5, 2021, starting at 1pm. Events include: panels on Graduate Teaching, Undergraduate Teaching, Concurrent Workshops, and a Dessert Reception. Learn more and register for Decolonizing Economics.
Current AU PhD students are invited to apply for Institute for Women's Policy Research Fellowship for 2021-2022. The deadline for applications for the 2021-2022 academic year is March 29, 2021.
Eligibility & Qualifications

Applicants should have knowledge of women's issues in the U.S, strong quantitative and research skills, and expertise with Stata, R, or other relevant statistical package

Application procedure
To apply, candidates should send a letter detailing their interest in gender policy issues and experience with research in this area, along with a CV and recent writing sample to docfellows@iwpr.org. All materials should be in one pdf file named AUFellow_20YY_LASTNAME.pdf.
AU's Program on Gender Analysis in Economics (PGAE) differs from related graduate programs with its gender-focused yet economics-based program:
The program takes a global perspective by collaborating with Visiting Scholars and incorporating relevant literature on Africa, Asia, Latin America, the Post-socialist world and OECD countries.
Our location in Washington, DC, provides unique opportunities for internships and part-time work leading to full-time employment and careers with public and private institutions in the Washington area and beyond.
Degrees Offered
Students in either the MA or PhD program can do a track in Gender Analysis. Students who already have at least an MA in Economics can apply to do a Certificate in Gender Analysis in Economics. Students in each of these three options study together in two common core courses: Gender Economics I (previously listed as ECON-674 Gender Perspectives on Economic Analysis: Microeconomics) and Gender Economics II (previously listed as ECON-675 Gender Perspectives on Economic Analysis: Macroeconomics).
Additionally, PhD students in the PGAE program have the opportunity to serve as Research Assistants on PGAE projects including the Care Economy and Gender-Sensitive Macroeconomic Modeling for Policy Analysis Project, which consists of more than 30 researchers from around the world.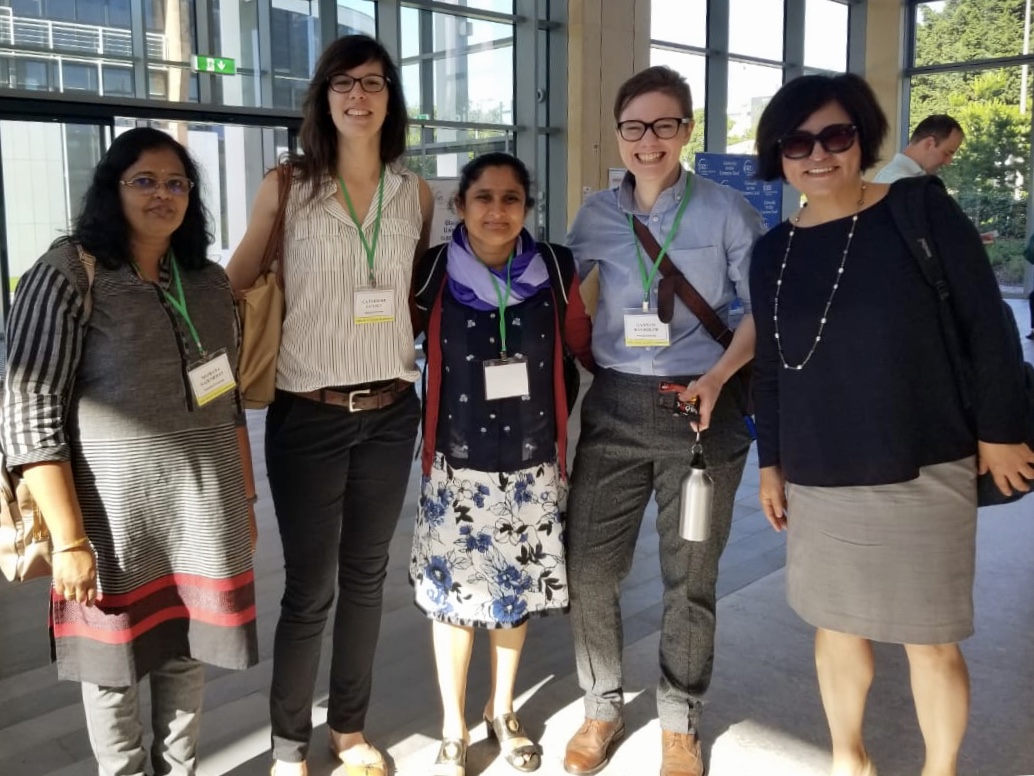 Visiting Scholars Shobana Rajendran, Samanmala Dorabawila, Otgo Banzragch and PGAE Graduate Students Catherine Hensly and Hannah Randolph at the 2019 IAFFE Conference
Professor Maria Floro teaches gender analysis in economics (micro) and development microeconomics. Her publications include Informal Credit Markets and the New Institutional Economics, Women's Work in the World Economy, and Gender, Development, and Globalization: Economics as if All People Mattered and articles on gender and work intensity, time use, care work, environmental degradation, vulnerability, and informal employment, urban food security, poverty, household savings, credit and debt service burden. Professor Floro  currently leads the Care Work and the Economy Project (www.careworkeconomy.org).
Professor Mary Hansen is an expert in U.S. social policy. She is widely published in the fields of child policy, bankruptcy, and economic history. Her work addresses key issues in race, gender, and economic inequality. Her research has been funded by the National Science Foundation, the National Institutes of Health, the Alfred P. Sloan Foundation, and the Institute for New Economic Thinking. She has been quoted or cited by news outlets including WAMU, The Economist, Fortune, CNN, and the LA Times. She has given public testimony before the DC City Council and in Federal District Court.
Assistant Professor Kelly Jones is an applied microeconomist and her work focuses on evaluating the impacts of various policies and interventions on gender equality and welfare. Her recent work includes experimental analyses of women's risk coping strategies in the face of financial shocks, and the implications for women's sexual and reproductive health in Sub-Saharan Africa. She has also analyzed the impact of US foreign policy on women's fertility outcomes internationally. In mid-2018, she launched a new line of research exploring the economic implications of access to reproductive health services in the United States.

Other ongoing work includes field experiments in Uganda and Ghana on the role of gender dynamics in intra-household allocation of resources and productive activities. In particular, she is exploring women's contributions to and empowerment within small-scale commercial agriculture.

Professor and Associate Dean of Graduate Studies Mieke Meurs has recently taught Heterodox Microeconomics, Political Economy, and a Complex Problems course called What's It Worth? Her research and publications are mainly in the area of feminist economics, care work, and gender bargaining power.
Assistant Professor Natalia Radchenko is an applied econometrician. Her work includes development of new concepts of intrahousehold inequality and empirical methodologies to better measure inequality, as well as analysis of labor market outcomes in developing countries.
Associate Professor Mahmud Yesuf's research interests include poverty, environment and development issues in low income countries, with a special focus on households' behavioral issues (such as risk aversion). He has an international teaching and research experience working on various projects with the World Bank and International Food Policy Research Institute (IFPRI) in Africa. He has taught classes in principles of Microeconomics, Environmental Economics, Survey of African Economies, and Applied Econometrics.
Professor John Willoughby's fields of interest include economic history and the economics of the Middle East. Recent publications focus on higher education in the Gulf states.
Professor Thomas Husted is an applied microeconomist. His primary field is public economics. His research examines the political economy of various government expenditure programs, including primary, secondary and post-secondary education, income redistribution, and federal disaster aid.
Senior Professorial Lecturer Evan Kraft received his PhD from the New School for Social Research in 1990. He was Assistant Professor at the Perdue School of Business, Salisbury State University, Maryland from 1990-95. From 1995-2010, he worked in Croatia, serving as a Visiting Scholar, Director of the Research Department, and Advisor to the Governor of the Croatian National Bank. From 2007 to 2010, he was an external Associate Professor at the University of Split, Croatia. He was Economist-in-Residence from Fall 2011 to Spring 2019 and Senior Professorial Lecturer since Fall 2019 at American University. He also has been Undergraduate Program Director since 2015. Professor Kraft's research interests include transition economies, monetary and macroeconomic policy, banking competition and regulation, financial stability and economic inequality.
Fred and Barbara Bergmann Fund
The Fred and Barbara Bergmann award is given to a promising graduate student to support gender research in economics. To donate to the fund, please follow the following instructions:
Visit our donation webpage
Choose your donation type and amount
Click "Funds I Choose"
Scroll down to "Support a Fund Not Listed" , check the box
and write in "Barbara Bergmann Graduate Fellowship for Gender Economics Fund".
Donations can be also sent to  Dr. Mieke Meurs at mmeurs@american.edu.
PGAE Gender Seminar Series
March 22, 2021
2:30-3:30 p.m.
Presenter: Ignacio Gonzalez Garcia, Assistant Professor, Department of Economics, American University.
Topic: TBA
April 12, 2021
12:00-1:00 p.m.
Presenter: James Heintz, Professor of Economics and Chair, Department of Economics, University of Massachusetts, Amherst.
Topic: Endogenous Growth, Population Dynamics, and Returns to Scale,