Center for Congressional and Presidential Studies
4400 Massachusetts Avenue NW
Washington
,
DC
20016
United States
Books written and edited by our scholars
The scholars at the Center for Congressional and Presidential Studies have written and edited numerous publications. Below you will find information on our publications and links to order these books.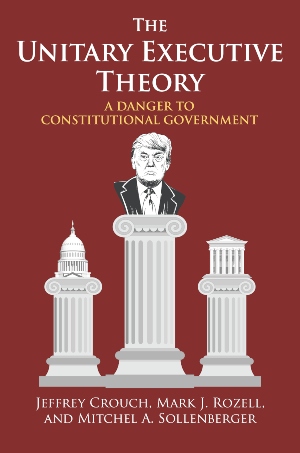 The Unitary Executive Theory: A Danger to Constitutional Government
American University assistant professor Jeffrey Crouch, along with Mark J. Rozell, and Mitchel A. Sollenberger, exam the rise of the unitary executive theory over the last several decades in this new book. The unitary executive theory first went mainstream during the George W. Bush administration as the president's justification for exercising broad executive powers. Barack Obama did not explicitly embrace the unitary executive theory, but he followed in Bush's footsteps by expanding and augmenting presidential power in new and questionable ways. President Donald J. Trump's campaign rhetoric, coupled with an early, controversial executive order on immigration, suggest the possibility of continued expansions of executive power. Thus, the time is right to examine the unitary executive theory anew. Here, they define the theory as understood by its advocates and then offer a critique. Finally, they highlight the theory's impact on the evolution of presidential powers over the past 16 years and set the stage for evaluating what may come next. The Unitary Executive Theory: A Danger to Constitutional Government, releases in November 2020.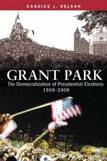 Grant Park: The Democratization of Presidential Elections 1968-2008
Professor Candice Nelson's new book examines the democratization of the presidential election process over four turbulent decades.
Learn More
Obama in Office: The First Two Years, a book from Professor James A. Thurber
James A. Thurber's book, Obama in Office: The First Two Years , is the first scholarly assessment of President Obama and his first two years in office. The book includes chapters by established political scientists, practitioners, and journalists who have studied American political institutions and domestic and international public policy.
CCPS Fellow Publishes New Book
The latest book by Professor John E Owens, The "War on Terror" and the Growth of Executive Power? has been released.
Learn More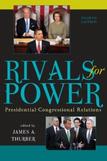 New release: Rivals for Power Fourth Edition
Edited by James A. Thurber, 2009
Rivals for Power is a lively and up to date description of the power struggle between the president and Congress. In it, leading congressional and presidential scholars and knowledgeable former public officials consider the historical, political, and constitutional foundations of conflict between the two branches. The authors give practical advice about how to build cooperative policymaking between the president and Congress as they struggle over major crises in solving economic problems and addressing domestic issues and the challenges in defense and foreign policy making. The book features original academic research and practitioner knowledge from the White House and the Hill.
This fourth edition includes all new essays with unique and critical viewpoints on the role of the president and Congress in the policy making process. Many of the essays focus on lessons learned about cooperation and conflict between the two branches from the Clinton and Bush presidencies. The essays include preliminary analyses of President Barack Obama's relationship with Congress. Because the authors have made major contributions as congressional and presidential scholars, and have played key roles in Congress, in the White House, in the media, and as lobbyists, each chapter presents a different perspective. This new edition of Rivals for Power is intended for students, scholars, public officials, the media, and the general public.
Rowman & Littlefield
$34.95

New release: Campaigns and Elections American Style
by James A. Thurber and Candice J. Nelson, 2009
With new and revised essays throughout, Campaigns and Elections American Style provides a real education in practical campaign politics. Academics and campaign professionals describe the innovation and reality of election campaigns as they have evolved over time to culminate in the phenomena of the new town meetings, bus tours, talk radio, infomercials, focus groups, and the Internet. The third edition explains how campaign themes and strategies are set and communicated; how advanced campaign tactics are used; why mobilizing volunteers is essential; why early campaign money is worth more; how to get the media to cover a campaign without paying for it; and how to use focus groups, survey research, and media to win elections. Offering a unique and careful mix of Democrat and Republican, academic and practitioner, and male and female campaign perspectives, this volume scrutinizes national- and local-level campaigns through the 2000 and 2008 election cycles. Students, citizens, candidates, and campaign managers will learn not only how to win elections but also why it has become imperative to do so in an ethical way. Perfect for a variety of courses in American government, this book is essential reading for political junkies of any stripe and serious students of campaigns and elections.
Westview Books
$35.00
Vital Signs: Perspectives on the Health of American Campaigning
David A. Dulio and Candice J. Nelson, 2005
The 2004 presidential contest mobilized a record number of voters, with 121 million Americans showing up at the polls. In many eyes, however, 2004 also plumbed new political depths. It was the most expensive presidential campaign in history, marked by polarizing partisanship and unprecedented negativity. In Vital Signs, David Dulio and Candice Nelson analyze the Bush and Kerry campaigns and use them as the springboard for a broader exploration of the current U.S. campaign system and all its strengths and weaknesses.
The authors address four key issues:
Who's in charge of modern campaigns?
How effective are the key players?
What role does money play?
Are campaigns being conducted in an ethical manner?
This provocative analysis is the culmination of a long-term multifaceted project on Improving Campaign Conduct, housed at American University. Vital Signs combines focus group research, personal interviews with campaign professionals, and an extensive set of data culled from original survey research to provide an important new tool in the discussion and assessment of American campaigns and elections.
Brookings Institution Press
$18.95
Order now
Congress and the Internet
James A. Thurber and Colton C. Campbell, eds., 2003
Top scholars in the field address the procedural and cultural effect of the Internet on the legislative process; how the use of the Internet impacts the conduct of communication and business on Capital Hill; the advantages and disadvantages of computer-based communication and interaction between lawmakers and their constituents; how the internet is used to shape Congress's political agenda; the result of Internet lobbying on Congress; how the Internet is used as a campaign tool; and how the Internet influences civic engagement with Congress.
Prentice Hall Publishers
$33.40
Out of print
Shades of Gray: Perspectives on Campaign Ethics
Candice J. Nelson, David A. Dulio, and Stephen K. Medvic, eds., 2002
To many, the term "campaign ethics" is an oxymoron. Questionable campaign conduct occurs at many levels, from national presidential elections to local delegate contests. Campaign ethics goes beyond mere "ethical dilemmas," or trying to decide whether or not a particular act is above board.
The chapters in this volume examine the broad questions of ethics in campaigns from the perspective of those actors that play critical roles in them, as well as the scholars who study them. The contributors-who include leading academics, as well as practitioners from the world of campaigning and campaign reform-outline, assess, and critique the role and responsibilities of candidates, citizens, organized interest groups, political parties, professional campaign consultants, and the media, in insuring ethical campaigns.
Brookings Institution
$18.95
Order now
Crowded Airwaves: Campaign Advertising in Elections
James A. Thurber, Candice J. Nelson, and David A. Dulio, Editors, 2001
This volume gathers some of the most important new work in American political advertising and communication. The contributors include several of the foremost experts in this increasingly visible field. They provide an objective and balanced analysis of political advertising: its causes, its growth, and its consequences on U.S. elections. The merits of negative advertising are debated by Richard R. Lau and Lee Sigelman, Kathleen Hall Jamieson and her colleagues, and Kim Fridkin Kahn and Patrick J. Kenney. Paul Herrnson and Kelly D. Patterson, and Shanto Iyengar and John Petrocik grapple with the role of campaign advertising in deciding electoral outcomes. Darrell West describes the ascendance of issue advertising in modern elections and offers ideas about how to deal with its continuing proliferation.
Crowded Airwaves will appeal to readers who are interested in political campaigns and communication. It will be of special importance to those concerned with the tone and content of electoral campaigns and political discourse: negative advertisements, interest-group issue advocacy, and their impact on voting decisions.
Brookings Institution
$19.95
Order now
Campaign Warriors: Political Consultants in Elections
James A. Thurber and Candice J. Nelson, eds., 2000
Campaign politics has become increasingly professionalized in recent years. The growing prevalence and influence of paid consultants in the United States and other democracies is one of the most important factors changing the nature of electoral politics. Campaign Warriors thoroughly examines this critical-and controversial-development and its impact on the political system in the U.S. and other countries.
The contributors approach the topic from several different perspectives, including the increasing use of "spin doctors" and the resulting loss of influence of state and national political parties. The book investigates the role of these paid advisers: who they are, what they do and why, and how they feel about their work. The contributors discuss the consultant's relationship with candidates and parties, and analyze the effect of their efforts on election outcomes.
James A. Thurber is professor of government and the founding director of the Center for Congressional and Presidential Studies at American University. He is also principal investigator on The Pew Charitable Trusts' "Improving Campaign Conduct" project, from which this volume emerges. Candice J. Nelson is associate professor of government and the academic director of the Campaign Management Institute at American University.
Brookings Institution
$19.95
Order now
The Battle for Congress: Consultants, Candidates, and Voters
James A. Thurber, Editor, 2000
This volume provides an in-depth examination of six political campaigns waged during competitive 1998 races for the U.S. House of Representatives. The case studies evaluate the professional political consultants who managed each campaign, their interaction with the candidates, and the impact of the campaigns on voters. Relying on unparalleled access to both the consultants involved and the candidates themselves, the contributors explore the electoral setting and context of the congressional districts, the strategy, theme, and message of each campaign, the consultants' decision-making, fund-raising, and spending, and any outside forces that entered into the races. The book features new data on tracking, polls, and television advertising budgets.
Contributors include Carolyn Long (Washington State University), Burdett Loomis (Robert J. Dole Center, University of Kansas), Charles S. Bullock (University of Georgia), Diana Evans (Trinity College), David Canon (University of Wisconsin, Madison), and Jeff Gill (California Polytechnic University, San Louis Obispo).
James A. Thurber is professor of government and the founding director of the Center for Congressional and Presidential Studies at American University. He is the coeditor of Campaign Warriors: Political Consultants in Elections (Brookings, 2000) and Crowded Airwaves: Campaign Advertising in Elections (Brookings, 2000).
The Bookings Institution
$19.95
Order now
Congressional Procedures and the Policy Process, 7th edition
Walter J. Oleszek, 2007
The definitive work on how congressional rules, procedures, and traditions affect the course and content of legislation, this seventh edition reflects both thorough updating and further refinement. In the House and the Senate, and from committee room to the floor, the fundamentals of lawmaking are made clear in Walter Oleszek's straight talking, informative book on Congress. With dozens of lively illustrations, charts, and extracts from real documents, Oleszek spotlights both "regular order" and unconventional procedures while explaining the role of congressional leadership, the use of strategic tactics, and complicated parliamentary processes. Readers will appreciate Oleszek's insight on the ever-sophisticated use of procedures-such as "filling the tree" to achieve party and policy objectives in a time of sharper partisanship.
CQ Press
$49.95
Congress and Its Members, 12th Edition
Roger H. Davidson, Walter J. Oleszek, and Frances E. Lee 2009
Davidson, Oleszek, and Lee's focus on Congress as both a legislative institution and as a group of reelection-minded politicians has proven to be an extraordinarily effective and accessible way for thousands of students to understand the institution and the law-making process. A proven classic, the twelfth edition of Congress and Its Members features careful revising, new scholarship, and crucial updating.
CQ Press
$59.95